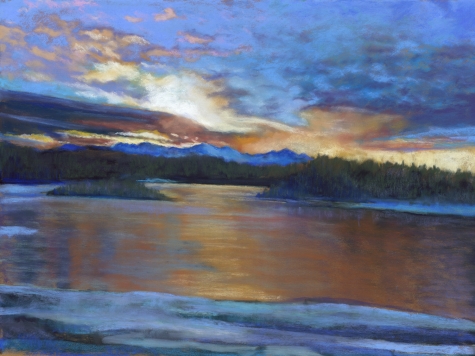 Pastel Art of Marjorie Cranston
Jackstraw Mountain Gallery

Thank you for visiting my web site!! Please visit often as I add new art frequently.

I live in Grand Lake, Colorado, at the entrance to Rocky Mountain National Park. We have a small town of a little over 400 people; and in the summer, we boast a population of almost 10,000 with visitors in the thousands! They enjoy our Western town with boardwalks next to Colorado's natural Grand Lake, which adjoins Shadow Mountain Lake and Lake Granby. We are so blessed with this atmosphere, and it is inspiring for art! I own my own gallery, and I paint in front of the many visitors during most of the year. As a result, I sell art and ship all over North America and Europe.

On this site, you will see art from Italy. My daughter and family work and live in Torino, Italy. Also, I have painted the wine country in Napa and have developed a love of old trucks and cars, most likely inspired by the grandchildren. I have started painting historical figures such as Lillian Gish (performed at the Central City Opera House), and of course, my all-time, favorite cowgirl, Annie Oakley.

I grew up in Lansing, Michigan, and began drawing at age 4. My favorite aunt, who was an artist, helped me cultivate my love for art in those early years. Later, I won an Art award in High School and went on to study Life Drawing at Michigan State. I furthered my education at the Art Students League in Denver, Colorado, and finished my education at Colorado Christian College. I graduated with a degree in Business, which has helped me tremendously in the Gallery and in the Interior Design business, which I still enjoy.

I have been shown in various galleries, and I have also been published in many magazines for both art and design.

Most recently I developed a clothing line from my art and that has been so much fun. You can see and purchase the clothing at the featured site for the clothing, MarjorieCranstonsWearableArt.com. Try a visit to visit my interior design website, as well (MarjorieCranstonDesign.com). Please, if you ever wish to reach me in person, I would welcome your calls and questions. I am usually found at Jackstraw Gallery in Grand Lake, phone number: 970-627-8111.